PROJECT ADMINISTRATION ASSISTANT / TRANSLATOR (PAA)
2022-08-15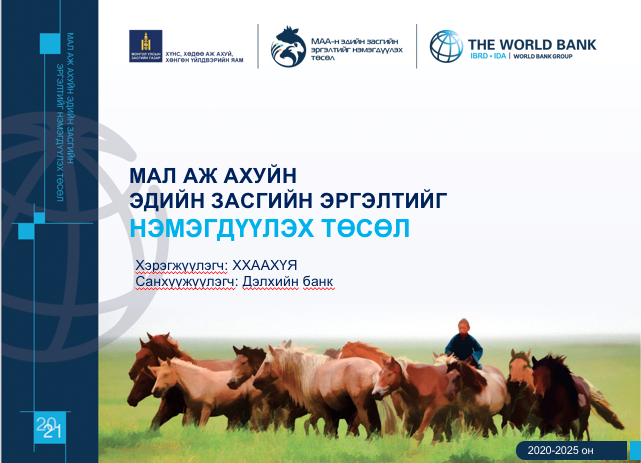 VACANCY ANNOUNCEMENT
LIVESTOCK COMMERCIALIZATION PROJECT
The Government of Mongolia has received a loan from the World Bank toward the cost of the Livestock Commercialization Project (LCP). The project development objective is to improve livestock health, productivity, and commercialization of targeted value chains in project locations and to provide immediate and effective response in the event of an eligible crisis or emergency. The project is structured as an IPF financed by an IDA credit in the amount of US$30 million over five years.
The project will strengthen institutional systems and governance of veterinary services at the national level by supporting (a) analytical studies and surveys, (b) strategy formulation and policy making, (c) developing national immunization plans and monitoring rollout plans, (d) staff capacity building, (e) upgrading trainings and extension systems, and (f) information systems. In addition, it will provide intensive support to western aimags for last-mile veterinary service delivery and investments in animal disease surveillance, prevention, and control. The project will also implement value chain commercialization interventions with strategic focus on meat and dairy sectors.
The Project Implementation Unit of the LCP is now seeking to recruit qualified individual for the position below. Procurement of individual consultant will be carried out in accordance with the World Bank's Procurement Regulations for IPF Borrowers, dated November 2020 and the provisions stipulated in the Financing Agreement.
PROJECT ADMINISTRATION ASSISTANT / TRANSLATOR (PAA)
Under the general supervision and guidance of the LCP Coordinator, the main duties and responsibilities of the Administrative Assistant are, but not limited to:
Prepare and update annual staff schedule and annual travel plan;
Carefully handle all programmatic or permanent records of the project;
Maintain up-to-date knowledge on PIU information /activities and answer general inquiries;
Prepare draft of various correspondences ready-to-go for review by the Project Coordinator;
Monitor and maintain fixed assets registry and manage the maintenance of office equipment and office supplies;
Manage the office supplies and consumables in maintaining record of assets & stock inventory;
Facilitate the organization of workshops, Project Steering Committee Meeting, Technical Working Group Meeting, Project Review Meetings and staff meetings; prepare meeting minutes and circulate for minimum inputs for finalization and filing;
Manage local and international travel arrangements for PIU staff and visitors (including procurement of tickets, hotel reservation and pick-up from the airport);
Do interpretation and translation work to serve the project activities;
Create and maintain a roster of individual consultants, resource persons and potential candidates for temporary positions;
Responsible for the scanning and archiving all project related documents in both electronic and hard copies to facilitate easy access for the Project Coordinator;
Facilitate various Implementation Support Missions, draft Itineraries for the WB and GoM inputs; circulate these itineraries to various stakeholders and confirm various meetings for Missions as well as record attendance, minutes from various meetings and circulate draft two days after meetings are held;
In consultation with the Procurement Officer, develop a directory for various vendors;
In consultation with the M&E and Communications Officers, develop a directory of various stakeholders, Implementing Partners, development partners, government agencies, firms, consultants etc.
Manage PIU vehicles and drivers schedules under the supervision of the Project Coordinator;
Undertake any other activities assigned by the Project Coordinator.
Required Qualifications:
At least a Bachelor's degree in Management, Business/Public Administration or other related Social Sciences from a recognized University.
Previous experience working for donor-funded projects is desirable
Demonstrated ability to establish priorities and to plan, co-ordinate, and monitor his/her own work plan and those of subordinate staff.
Demonstrated ability to meet deadlines, and to make appropriate links in work processes and anticipate next steps.
Self-motivated.
Excellent interpersonal and team building skills, including negotiation skills
Excellent written and spoken communication skills, including presentations
English speaking and writing fluency with good translation skills;
Computer literacy with proficient knowledge of Microsoft Word, Excel and PowerPoint applications
Good filing skills (Electronic and hard copies)
Well-developed organizational skills
Thorough knowledge of Government and private sector institutional and organizational structures and operations in general
Working knowledge of the operational modalities for national and international NGOs is desirable.
Note: The present Terms of Reference may be adjusted and modified, without changing the overall objective and the scope of work, on the basis of consultations.
Interested candidates are invited to submit a Cover Letter, CV (Curriculum Vitae), along with two reference letters in a sealed envelope indicating the position applied for, no later than 5PM on 29 August 2022, to LCP Project Implementation Unit, at the following address: Room 602, 6F Park Place, Peace Avenue 24, Sukhbaatar District, Ulaanbaatar, Mongolia. TEL: 70104041. Only short-listed candidates will be contacted.