Remote Sensing and ICT integration Specialist /6 months of duration/
2022-09-01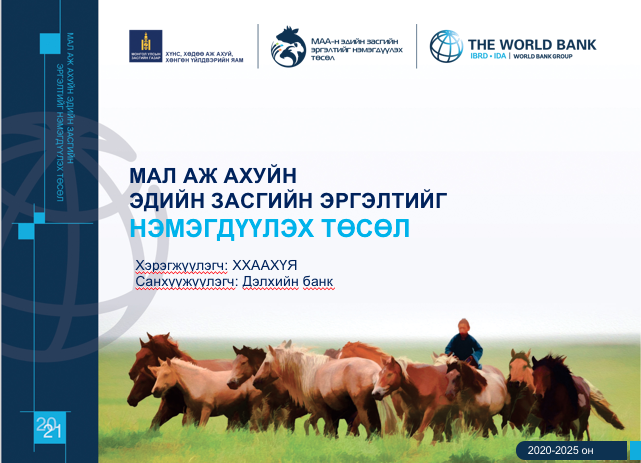 LIVESTOCK COMMERCIALIZATION PROJECT (LCP)
The Government of Mongolia has received a loan from the World Bank toward the cost of the Livestock Commercialization Project (LCP). The project development objective is to improve livestock health, productivity, and commercialization of targeted value chains in project locations and to provide immediate and effective response in the event of an eligible crisis or emergency. The project is structured as an IPF financed by an IDA credit in the amount of US$30 million over five years.
The project is now seeking to recruit qualified individual for the following position:
Remote Sensing and ICT integration Specialist /6 months of duration
Purpose of the assignement: The purpose of the assignment is to support and oversee the implementation of LCP-financed Innovative Service Delivery sub-projects and moreover review and supervision of the consultant agency for the "Development of agricultural model platform for smart agriculture" pilot for specific use cases (e.g., remote sensing, traceability, blockchains, direct benefit transfers etc.) and mainstreaming of the pilot applications and integration to the overall E-agriculture platform. The consultant will also support the development of the ICT-related aspects of the planned interventions in Green, smart and inclusive agriculture systems along with concurrent studies by the World Bank.
Specific tasks will include the following:
The consultant will be responsible for supporting the developed systems and managing computer- based framing and information communication technology solutions under the LCP;
Effective oversight and coordination of smart agriculture pilots and tech-related ISDs under Solutions Marketplace;
Conduct a review and assess any projects and programs of carbon reduction framed the Green and smart agriculture in agriculture, and develop optimistic implementation options.
Provide recommendations pertaining to the integration of the pilots under consideration into the envisaged E-ag platform;
Evaluate the effectiveness, coherence and scope of diverse projects being implemented under LCP and provide recommendations to direct future interventions in order to achieve the GoM's digital transformation objectives;
The position will control the flow and dissemination of remote sensing and geographic information data, including pasture and crop database, forecasting model and mapping selected project sub-project of geography;
Critically assess capacity gaps in the agriculture sector and partner institutions that hinder the effective implementation of the projects and develop approaches for improving capabilities as required;
Build recommendations up on systematic integration of the existing technical agriculture system and stakeholders;
Support strategies or directions of research for the LCP or World Bank investments in e-agriculture and identify areas of support for the agriculture sector, including opportunities for collaboration with the international development community;
Support enabling conditions to access, use and deploy digital services by public and supported services;
Qualifications:
Master's degree in Geography, Planning and GIS Certificate preferred;
Solid experience in working with agricultural producers, local understanding needs and operational context;
6-10 years of work experience within digital agriculture, the government, academia, an international agency or the private sector, working with multiple partners;
Proven and practical experience managing teams consisting of diverse individuals and ICT-related projects;
Experience in digital drafting, geographic information system design, implementation and management;
Excellent computer literacy, particularly with Microsoft Office products and Adobe Suite;
Ability to communicate effectively, orally and in writing, with other employees and the general public;
Background in working with/for international development institutions, hands-on understanding of their requirements and work ethics will be advantageous;
Good proficiency in English;
Ability to communicate and translate, as needed, technical information related to cartography and spatial analysis to policymakers and elected officials;
Ability to thrive in a fast-moving, technology environment, with an emphasis on high performance, teamwork, adaptive problem-solving, accountability and results.
RECRUITMENT TIMETABLE:
Interested candidates are invited to submit a Cover Letter, CV (Curriculum Vitae), copy of diplomas along with two reference letters in a sealed envelope indicating the position applied for, no later than 11AM on 19 September, 2022 to LCP Project Implementation Unit, at the following address: Room 602, 6th Floor, Park Place Office, 1st Khoroo, Sukhbaatar District, Ulaanbaatar, Mongolia. Contact information: phone: 8000-9915, email: bulgaa.amarsaikhan@gmail.com. Only short-listed candidates will be contacted.